How to Unlock Sony Xperia Boot Loader and How to get the boot loader Unlock Code.  When you can not get into the boot loader mode in sony xperia, it means the boot loader of the equipment is locked. To get into the boot loader mode must be unlocked first. The first thing to do is check whether sony xperia device can be unlocked boot loader. How to check whether it can be unlocked or not by typing, quotations from Sony's official website as follows:
Please note! It will only be possible to unlock the boot loader for certain releases. You can check if it is possible to unlock the boot loader of your device in the service menu by following the steps below:
In your device, open the dialler and enter *#*#7378423#*#* to access the service menu.

Tap Service info > Configuration > Rooting Status. If Bootloader unlock allowed says Yes, then you can continue with the next step. If it says No, or if the status is missing, your device cannot be unlocked.
It is obvious, that not all of the boot loader can unlock sony xperia.
How to Unlock Sony Xperia Boot Loader and getting the Boot loader unlock code
First, Getting the Boot Loader unlock code:
Goto http://developer.sonymobile.com/unlockbootloader/
Klik "Start unlocking your boot loader" and goto bottom you will see this

Select your device and make sure you have read the information below the select your device in the darkness area. you need the information to unlock your device. After read it you can klik Continue, you will see Email verfication page: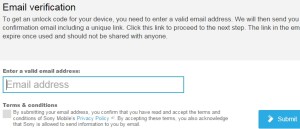 Enter your email address and klik Submit.  You will receive an email about the unique link for one time used and klik the link and you will bring to the next step.
For complete guide How to Unlock Your Sony Xperia Watch this official Video from Sony Xperia:
After unlocked your Sony Xperia Boot Loader, you can perform a hard reset for your device.  You can read How to Install and Use Flash Tool for Unlocked Sony Xperia Devices
Tags: boot loader unlock code, sony xperia, unlock boot loader, unlock boot loader video, unlock code sony xperia
5 comments on "
Unlock Sony Xperia Boot Loader

"