How to Download and Flashing Samsung Galaxy M30s SM-M307F Firmware Android 10. It will help you how to flash official ROM Android 10 Q for Samsung Galaxy M30s SM-M307F, flashing procedure is still same with other A Series 2018/2019. If you get error message "SECURE CHECK FAIL: BOOTLOADER" when flashing the ROM, try to use the newest version of the firmware update. It hard to find free download website for the firmware. If looking for free some website is available but download speed is very slowly. Try to find it from personal website. I recommend to use Samfirm Tool.
The reason why you do this
OTA is not perfect when update the software / system ( online update )
Some system files may be lost
Failed when update system files
System files may be corrupted or did not download completely
Installed apps may be not supported with new system update
Benefits
Replace old system ( damaged / corrupted )
Cleaning Virus / Malware
Clean unwanted apps
Restore to clean default factory settings
Unroot if rooted before
Conditions
No Need Unlocking Bootloader
No Need Enable OEM unlocking options
Download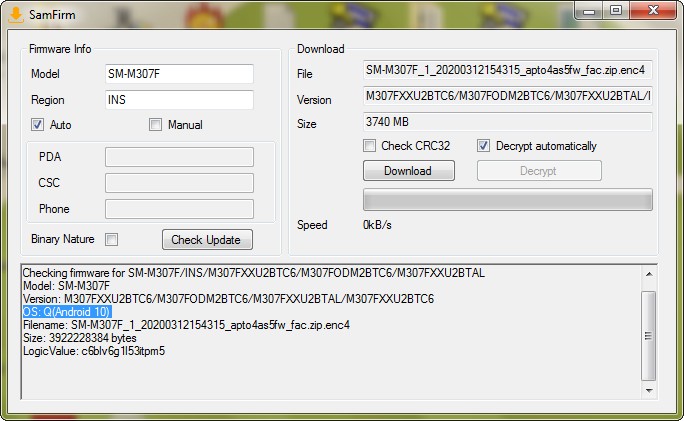 How to Flash Firmware Android 10 Q on Samsung Galaxy M30s SM-M307F
Enter Download Mode : Turn Power Off. Press and hold Volume Up + Volume Down key together, while pressing these keys, connect the phone to computer, then press volume up once.
Open Odin: Add the firmware files AP, BL, CP and CSC.
In Option make sure to ticked F.Reset Time and Auto-Reboot only
Wait until you get a blue sign in Odin
Click the start button, sit back and wait few minutes
Setup the Phone
Done!
Make sure to backup all your important data because It will all your data and restore it to default factory settings.
Warning!
Make sure the firmware is match with your Samsung Galaxy model number
Make sure to ticked F.Reset Time and Auto-Reboot only
if you get error message "SECURE CHECK FAIL: BOOTLOADER" when flashed the ROM, try to use the newest version of the firmware update.
If your device rooted, flashing firmware will unroot it.
Do this with your own risk
Tags: Android 10, firmware update, flashing rom, free download, samfirm tool, Samsung Galaxy M30s