Firmware update / Stock ROM : Samsung Galaxy Tab SM-P550 to Android 7 Nougat. The firmware available for downloading https://samsung-firmware.org/model/SM-P550/. You can download your Samsung Galaxy Tab SM-P550 firmware at the page, available for some countries. How to Root for Samsung Galaxy Tab SM-P550 is the separated post, this post only for upgrading to Android 7 Nougat. if you get error message "SECURE CHECK FAIL: BOOTLOADER" when flashed the ROM, try to use the newest version of the firmware update.
Firmware details below is one of the Android 7 Nougat firmware, you can download it according to your country at the link above.
Phone Samsung GALAXY Tab A
Model SM-P550
PDA Version P550XXU1CQI8
CSC Version P550XEZ1CQI8
PHONE Version P550XXU1CQI8
Region XEZ
Country Czech Republic
Build Date 20.09.2017
Changelist 12284047
OS Nougat
OS Version 7.1.1
How to install Android 7 Nougat on Samsung Galaxy Tab SM-P550 :
Extract (unzip) the firmware file. Download at https://samsung-firmware.org/model/SM-P550/
Download Odin http://odindownload.com/SamsungOdin/
Extract Odin ZIP file
Open Odin
Reboot Phone in Download Mode ( Turn Power off the phone, Press and hold Volume Down key and Home key, While pressing these keys press and hold Power key, Release all key when Download Mode / Odin Mode appears )
Connect the phone to PC with USB Cable Data, then Press and release Volume Up key
Wait until you get a blue sign in Odin
Add the firmware file to AP / PDA
Make sure re-partition is NOT ticked
Click the start button, sit back and wait few minutes
If you got Boot Loop after update samsung firmware read this How to Fix Boot Loop After Update Samsung Android Firmwares
Warning!
If you upgrade the firmware using the firmware that is not from your region, and you get an error message. That means the firmware is not suitable for your Samsung.
If the firmware can not be upgraded to your device It means, they do not support your device. All the impact is its own responsibility
Sample screenshot ODIN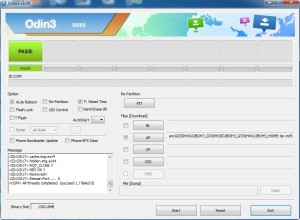 Tags: Android 7 Nougat, firmware update, Galaxy Tab SM-P550, stock rom