How to Downgrade Xiaomi Redmi Note 8 Pro MIUI 11 Android 10 Q to MIUI 11 Android 9 Pie. If you are not satisfy with Android 10, you can downgrade it to Android 9 Pie.  Fastboot Rom is only available for India country, but we can flash it to Redmi Note 8 Pro Global.  I tested downgrade my Redmi Note 8 Pro MIUI 11 Android 10 – Indonesia to Android 9 India Stable Fastboot Rom V11.0.4.0.PGGINXM 9.0.  I can not found other fastboot rom except for India.  Use at your own risk, I'm not responsible for bricking your device.
Download and Extract
Make sure the Redmi Note 8 Pro Bootloader is Unlocked, If not watch this video How to Unlock Bootloader Redmi note 8 pro
Download Mi-Flash Tool
Download Fastboot Android 9 ROM Redmi Note 8 Pro India Stable Fastboot V11.0.4.0.PGGINXM 9.0
Extract downloaded tgz file using 7-zip,
Extract tar file using 7-zip too
Now, the ROM ready to flash
Flashing ROM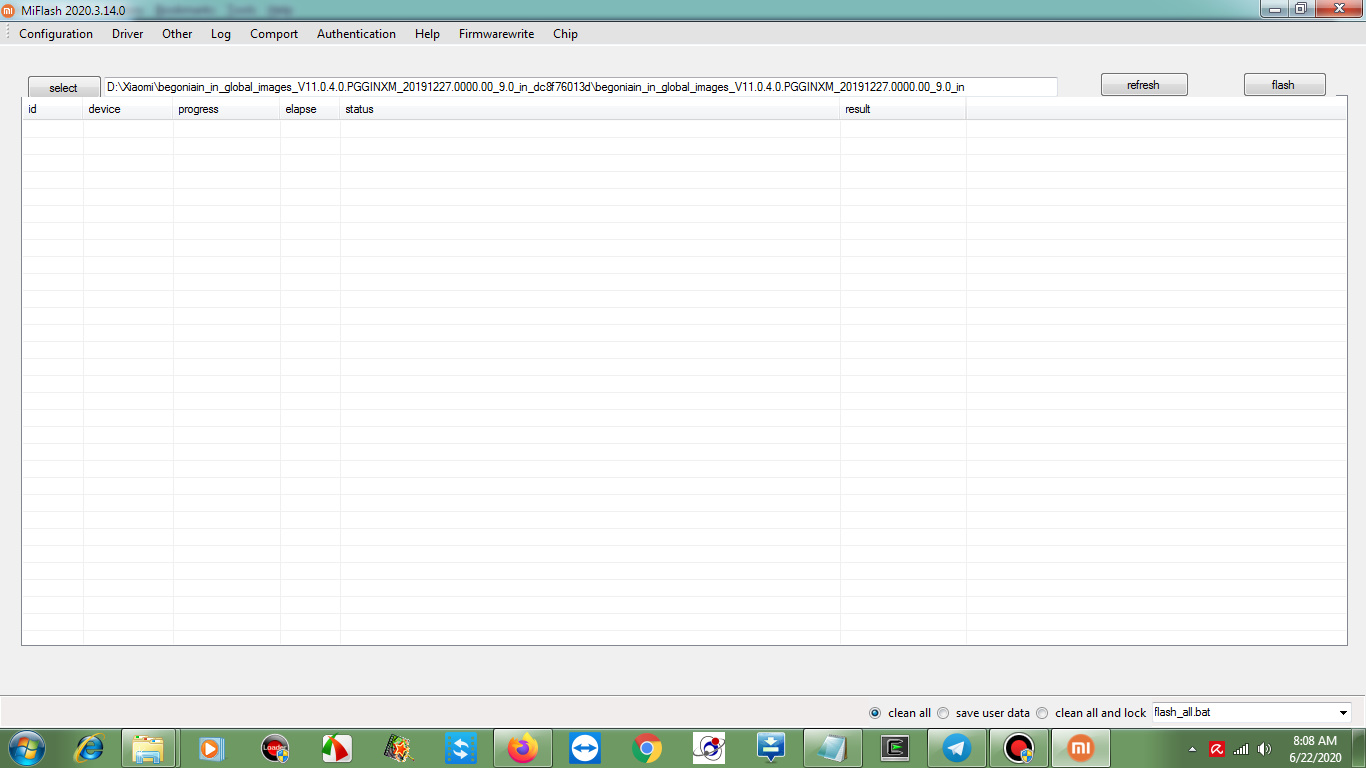 STEP 1
Enter Redmi Note 8 Pro Fastboot Mode:
Turn Power Off
Press and Hold Volume Down + Power key
release all keys when fasboot mode appears
Connect the phone to computer
STEP 2
Open MiFlash Tool
Select Configuration – MiFlash Configuration: Clear  or delete "CheckPoint" parameter if exist – OK
Click Select and pointing to downloaded rom Android 9
Click Refresh
Select "Clean all" in the bottom bar
Click "Flash"
If finish you will see status is "Success"
STEP 3
Disconnect USB Cable
Setup the Phone
Done!
Notes / Warning!
Use at your own risk, I'm not responsible for bricking your device.
Using the incorrect file may brick your device.
Make sure to backup your important data before flash it
Tags: android 9 fastboot rom, android 9 for redmi note 8 pro, flashing rom, redmi 8 pro downgrade, redmi note 8 pro, Unlock BootLoader