How to root Samsung Galaxy J2 Prime SM-G532G Android 6.0.1 Marshmallow. Really simple rooting method with single file execution. The rooting process will run automatically, you don't need enter Download mode manually but in the ODIN software are needed manually on the AP options for pointing to "root-boot.tar" file and Starting the flashing.
Steps for rooting Samsung Galaxy J2 Prime SM-G532G Android 6.0.1 Marshmallow:
Prepare your device:
Enable Developer Options: go to Settings -> About device. Tap 7 times on Build number to enable Developer options.
Enable OEM unlock and USB debugging options ( Settings -> Developer options )
Download file ROOT-G532M.zip at https://mega.nz/#!P0gVVYAJ!l7kwVbjY6jXw0KA0wMCL8FuOAQZPvIfLzZiEqq-7tv8
Extract the ROOT-G532M.zip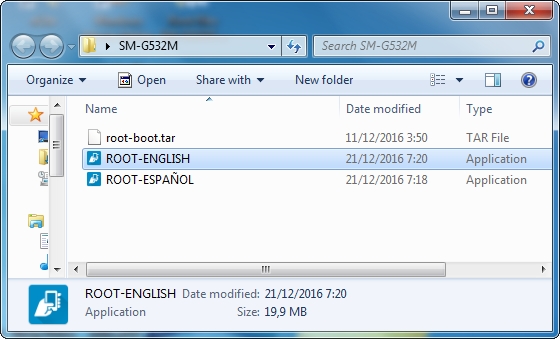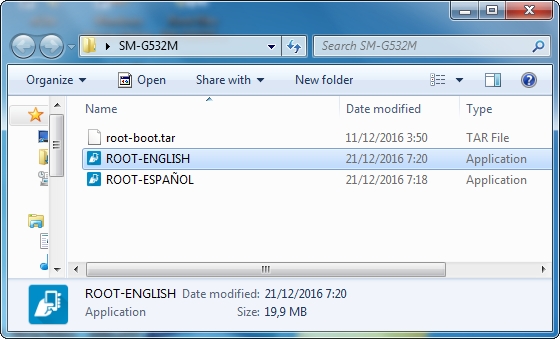 Rooting steps:
Run ROOT-ENGLISH.exe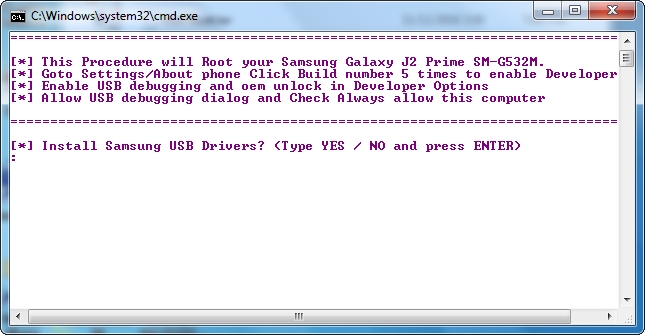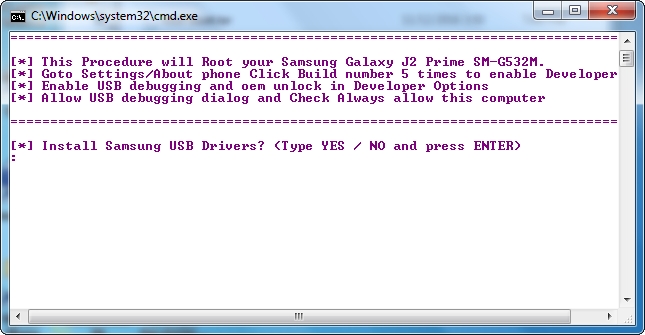 Type YES if your PC did not install Samsung USB Drivers yet and type NO if the pc are installed Samsung USB Drivers and then press ENTER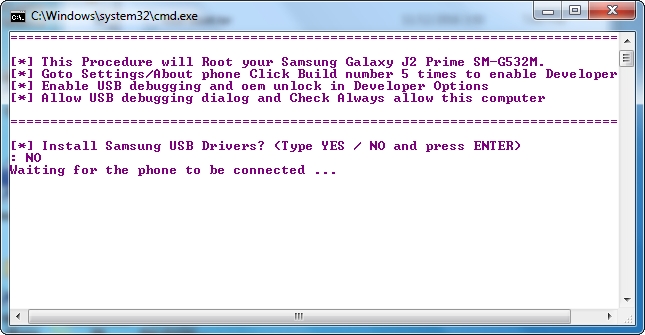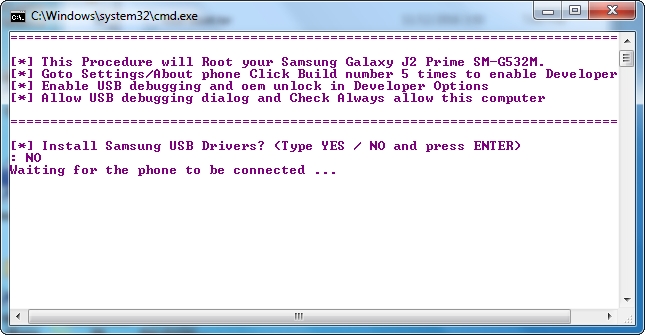 Now connect the phone to the PC via USB Cable.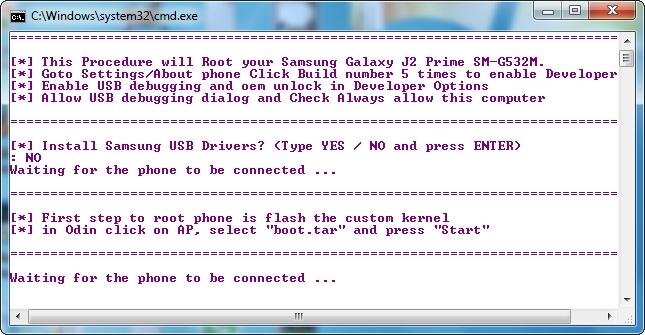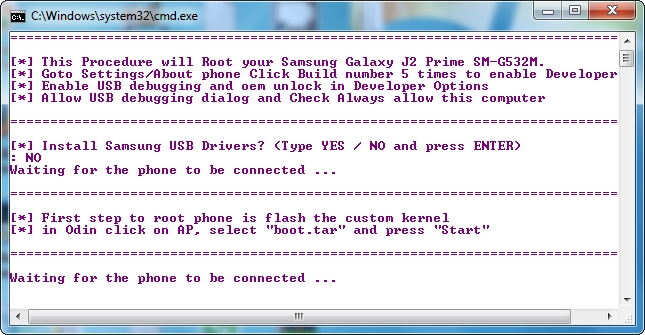 Wait a moment.. and you will see ODIN appears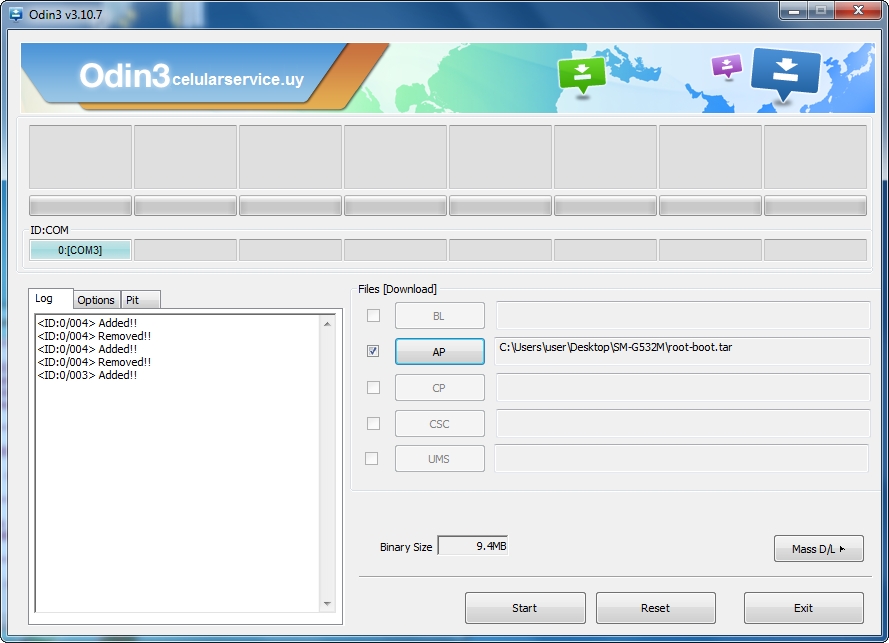 Click AP and pointing to the file "root-boot.tar"
Then click Start
After finish flashing the phone will restart 2 times.
Open SuperSU app and update the binary
Now your phone Rooted!
Credits:
@Chainfire for SuperSU
@hernankano the rooting file
After rooted it you will get message "set warranty bit = kernel (0)", Do not worry is normal, it is because the boot file that flashed. this message will disappear when you flashing the ROM and also the phone will unroot. The message does not affect the phone when use it.
WARNING! WARNING! WARNING!
Once your device rooted, Don't Ever Disable Developer options and Don't ever Disable OEM unlock
What your risk if you disable these? When your device booting or restarting you can not enter the android and blocked with message "Custom Binary blocked by FRP lock".
Related post: How to Fix Custom Binary blocked by FRP Lock
Notes / Warning!
Use at your own risk, I'm not responsible for bricking your device.
This is for Samsung Galaxy J2 Prime SM-G532F, SM-G532M, SM-G532G models only! Using the incorrect file may brick your device.
If your target device has a custom firmware flash counter, Rooting will trigger it. If you're lucky, Triangle Away has support for your device and can be used to reset the counter.
If you have a KNOX-enabled device, Rooting will trip the KNOX WARRANTY VOID status !
If your device storage is encrypted, Rooting will wipe your data !
If you have locked bootloaders, flashing one of these will probably brick your device – with the exception of Nexus devices, which will usually automatically "OEM unlock" and wipe your data !
Make sure to backup your important data before root it.
For the password problem after reboot:
Known Problem after root: password problem when booting make sure you understand about the risk that you will face. Use at your own risk, I'm not responsible for bricking your device.
https://forum.xda-developers.com/android/development/root-samsung-galaxy-j2-prime-g532m-t3523090/page2
Save
Tags: Android 6.0.1 Marshmallow, Galaxy J2 Prime SM-G532G, root, SuperSU
11 comments on "
How to Root Samsung Galaxy J2 Prime SM-G532G Android 6.0.1 Marshmallow

"